TeenVogue
Posted on July 11 2019
THE RIVERDALE CAST HIDES PLOT HINTS IN THEIR BEAUTY LOOKS
While the Black Hood's reign of terror may (or most likely may not) be over in Riverdale, there's plenty of action and intrigue still set to happen in the town of indistinct location. Cheryl Blossom's (Madelaine Petsch) interest in Josie McCoy's (Ashleigh Murray) singing career may have more to it than friends helping friends; Jughead (Cole Sprouse) has shown his fellow Junior Serpents (and a now snake-tattoo-less Penny Peabody) the lengths to which he'll go to prove his loyalty; and Veronica (Camila Mendes) has officially joined the likely-shady Lodge family business.
In anticipation of the return of The CW hit series, we've been combing the first half of the season (and trailers for upcoming episodes) for clues about what's next — in the cast's beauty looks, that is. Because as Betty Cooper's (Lili Reinhart) symbolic ponytail proves: These details can be an indicators of unexpected twists and turns. Besides, from Veronica's expressive eyebrows to Betty's soft eyeliner, the beauty on the show is pure gold, thanks to Riverdale's Makeup Department Head Erin MacKenzie. And, lucky for us, she was more than happy to share what products and techniques she uses on the characters, drop some teasers on what the beauty evolution portends, and discuss how she convinced Cole Sprouse to adopt a multi-step skincare routine.
It's so subtle, but if you watch closely, you might see it.
VERONICA LODGE
After helping (maybe) vanquish The Black Hood, securing an after-school job with the family biz, and — probably most daunting of all — finally saying the "L" word to Archie, Veronica's ready to take names and you'll be able to tell exactly when through her makeup. "She's becoming a little bit more refined," says Erin. "It's so subtle and only the keen makeup fans are going to really notice, but it's just enough to give her a little bit more control because she's starting to move into a more powerful place."
While her glorious eyebrows stay strong and expressive with an assist from Anastasia Tinted Brown Gel (in Dark Brown) for shaping, Veronica's eyeliner game is evolving. "Her eyes are really her iconic feature," explains Erin. "So we're really playing up her eyes and defining a little bit more on her crease. Maybe her eyeliner becomes a little bit thicker, a little bit stronger." Her assistant Riley Harvey uses IT Cosmetics Liner Love gel Liner with an angled brush to control the intensity of the liner — and character development. "It really depends on the mood and the storyline," Erin explains.
Veronica's signature plum palette for her lips will stay consistent, with a bit of input from the actress herself. "Camila loves natural products, so when pairing Elate Clean Cosmetics 'Vivacious' lipstick with Tarte Color Splash Hydrating Lipstick in 'Berry Mojito' on top, we get a perfect lip ready for Veronica's charms," Erin notes. Careful, Archie.
BETTY COOPER
Even after the Scooby crew solved Riverdale's latest gruesome spate of murders, Betty still seemed hesitant to put the Black Hood entirely to rest (literally, by not burning that DIY balaclava). Not to mention, her long-lost brother is resurfacing. "Betty is starting to feel threatened a little bit in that she's not really portraying her right Betty at this stage in season two," says Erin. "For me, she's probably changed the most in her look." To reflect the up-in-the-air situation in Betty's life (and the emergence of Dark Betty at any given time), she moved character's color palette out of warm reassuring neutrals from season one.
"I'm bringing her more into a plum or a cool neutral tones to play up her eye definition," Erin explains. "When she's going through a lot of stress or sometimes trauma, we're really really muting her down, so you're just seeing raw emotion of Betty, instead of this put together, polished girl-next-door." Speaking of emotion, kudos to Lili for the perfect cry-on-cue moments. And considering what's coming, there will be plenty more of those moments to enhance with a waterproof eyeliner. Erin is loving the Hourglass 1.5MM Mechanical Gel Liner. "It doesn't smudge. It doesn't shift overall when she's crying, which we need desperately," the makeup artist says.
When Classic Betty unleashes that iconic — but restrained — ponytail for her Dark alter-ego, she takes a cue from Cheryl's playbook: an intense cherry red lip with organic brand Juice Beauty's Phyto-Pigments Luminous Lip Crayon in Zuma.
But, regardless of whether she's going for Classic or Dark, Erin keeps with the fresh-faced, no-makeup, makeup look for Betty — "which is one of the most difficult makeups to do," she says. She starts by prepping Lili's skin with Guerlain L'Or Radiance Primer under Shiseido Glow Enhancing Primer SPF 15 for an "ethereal glow." Then she layers on a cocktail of Kat Von D Lock It Foundation ("for ultimate staying power") and Josie Maran Vibrancy Argan Oil Foundation Fluid for a luminous glow. The trick: "Applying with a dampened Beautyblender is the secret to getting the perfect coverage and maintaining a no-makeup look."
CHERYL BLOSSOM
"With Cheryl, she is so transparent," says Erin. "What you see is what you get. With her iconic lip, she really wants to portray that she is the powerhouse. 'Don't mess with me.'" And we definitely wouldn't, especially when she's wearing her signature Lime Crime Matte Velvetine lipstick in Red Velvet and fluttering her impossibly long lashes that accentuate her lethal side-eye. "Cheryl's eyelashes are a process," says Erin, about the two-step routine starting with an initial coat of Benefit They're Real Lengthening Mascara "for separation" and then a layer of Makeup Forever in Smoky Extravagant for pumped up volume.
But, look for the top River Vixen to emote through her makeup, as drama queens are wont to do. "When she's put together she is unstoppable. As soon as we start to see her get a little more vulnerable — and we start to see that she is human underneath it all — that's when we will play with her color tones and take her out of that red lip." After she was attacked by Nick St. Clair, Cheryl had more emotionally exposed and less guarded moments at home, with muted tones and softer pink lips.
But it's really Cheryl's strong, impeccable, armor-esque makeup looks that serve as red flags for the rest of Riverdale to take cover. "That's one thing with Cheryl — when we pump up her eye definition, bring her to a brighter, more like accentuated place in her makeup look, it's just trying to distract from what's really going on underneath," says Erin. "It's so subtle, but if you watch closely, you might see it."
JOSIE MCCOY
The Pussycats lead singer always nails her performance-ready look with a smoky eye or metallic glimmer to perfectly coordinate with those signature cat ears. "She is a force to reckoned with, there's no limit to what Josie can pull off," says Erin. "We love to play it up with color and intensities in her makeup look and, of course, lashes for those perfect cat eyes." But with with constant pressure from her high-strung Mayor mom and new solo career, Josie has a perfect persona to keep off-stage, too.
"This season, she has a more natural look outside of her performance world to represent the control she takes on in the ever-changing life of Josie," the makeup artist continues. Like an IRL star, she only uses the most sought-after products. "Fenty Beauty by Rihanna has become the new favorite in helping us creating these looks and such a gorgeous base for Josie," Erin says. Her top picks are the Pro Filt'r Soft Matte Longwear Foundation for the staying power and the popular Match Stix Trio to contour and highlight, which are ideal — both for actress Ashleigh Murray to film under the Riverdale set lights, and Josie to perform a Kelis cover backlit by Pop's Chock'lit Shoppe signage.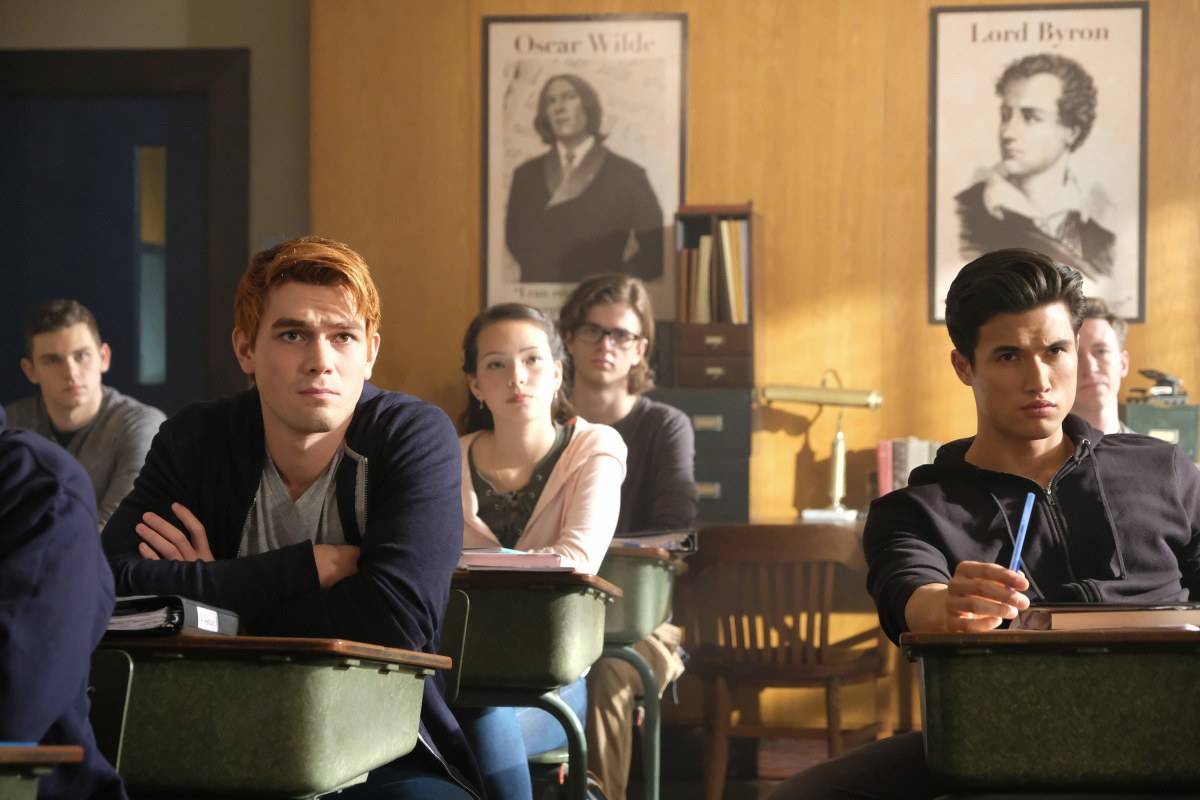 ARCHIE, JUGHEAD, KEVIN & REGGIE
Speaking of flawless complexions, Archie, Jughead, Kevin (Casey Cott), and Jingle Jangle-dealing Reggie (Charles Melton) seem to have a lock on their skincare routines. (Is it the water in Riverdale? Or the optimal climate that's brisk enough for Betty to wear furry earmuffs, but so balmy that Archie is often shirtless?) The actors who play the aforementioned teens spend so much time together bonding over health and wellness (oh, hey Dad!), we sometimes imagine they do the same for their BTS prep, too. But nope.
"Trying to get skincare on the guys, period, is the challenge," laughs Erin. (And yes, "if they're in the trailer together, it can get wild," she confirms.) She admits that especially fragrant products can elicit a Cheryl-level side-eye from the guys, but they're down to a trusted system at this point.
"Casey's probably the most interested. In fact, he's really good. If I give him some homework or I give him something to try, he's on top of it," she says. "Cole...is a challenge. But, I've never misguided him. So if ever I give him something to try, at first he'll kind of give me the eye. But once I go for it, he'll give me one chance. And if it works, great. If not, we move on to the next thing." Luckily, she's hit a sweet spot with two key products that are 100% Cole-approved.
Step one: prepping with a toning spritz of Eminence Stone Crop Hydrating Mist to "enliven" his skin. "We don't really start the day without it," she says. Then Erin adds a priming treatment layer of Amarte Aqua Veil Serum, which she uses on the rest of the male cast, too, before stage makeup application. "It smells really refreshing. It's a strong cucumber fragrance and I do find that Cole has been pretty receptive to that."
So no stink-eye after a whiff of the refreshing scent of cucumber?
"Well, it doesn't disturb him," she laughs. "So that's good."
---
"It smells really refreshing. It's a strong cucumber fragrance and I do find that Cole has been pretty receptive to that."
— Erin MacKenzie