Learn About This Nano-Detail That Makes Amarte's Retinol-Enhanced Products Incredibly Different
Posted on October 07 2021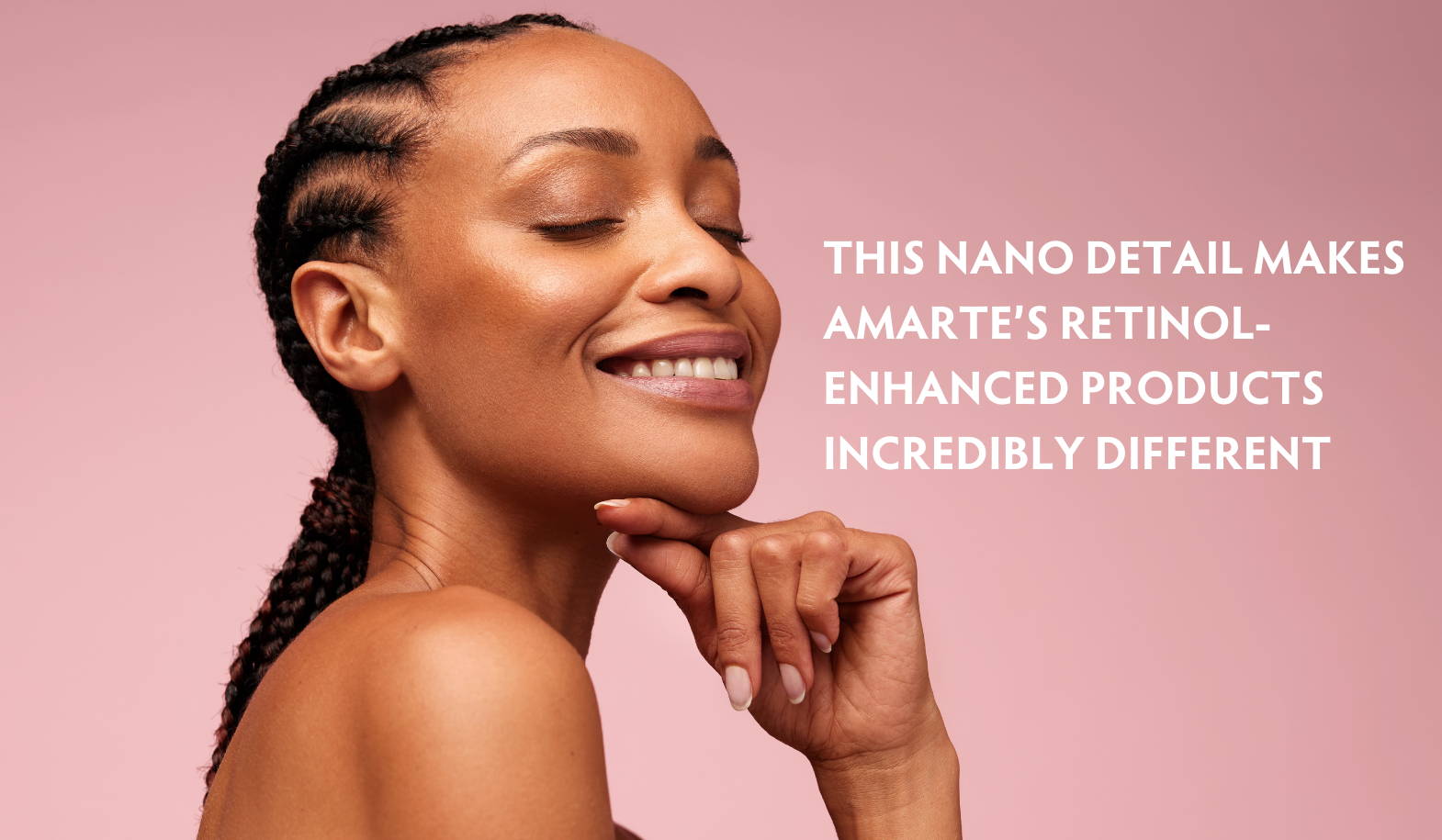 Retinol has undoubtedly earned its reputation as being one of the most-valued skin care ingredients known to postpone aging, diminish pore size, eliminate acne and reduce future breakouts. However, some of the side effects of improperly using retinol, including irritated, flakey, even burned skin, many have turned into skeptics. Retinol, especially for beginners, is a serious player when it comes to your skin care game due to its power and potency, but using too high of a dosage or overusing the product can lead to issues and skin sensitivity, until now. Allow us to reintroduce you to this miraculous age-defying Ingredient in a safe form that works for ALL skin types - nano-encapsulated retinol.
Amarte's products are highly-balanced made with Korean techniques for optimal proportionality, formulated for those with sensitive skin in mind. Our products are much more than what meets the eye. They are gentle on the skin discarding the risk of the rumored side effects. Amarte products contain pharmaceutical grade, nano-encapsulated retinol for improved stability, absorption, efficacy, and tolerability.  
What is nano-encapsulated retinol?
Nano-encapsulated retinol, in the simplest terms, is retinol where the molecule is shrunken down and surrounded by a lipid layer to create a time-released formula that will properly penetrate the skin rather than sit on the surface and irritate. This time-released formula expands the user-base to everyone, including those with predominantly sensitive skin.
How often should you use retinol?
Typical retinol can be overpowering for some and may cause skin to become dry and irritated, so it is not recommended to use them more than a few times a week if your skin is more on the sensitive side. However, Amarte retinol is safe for daily use (yes, you read that right!) and can be used morning and night. Our favorite retinol-enhanced products in our lineup include Eyeconic Eye Cream and Wonder Cream, both of which are safe to be applied morning and night, even if you're a first-timer. Created with a strongly balanced retinol ratio along with Korean-derived plant extracts that are gentle on the skin, this magical composition, apart from being luxurious and efficient, causes zero irritation.
When should you use retinol?
Retinol promotes the shedding of dead skin cells and subsequently replaces them with younger cells in a process known as cellular turnover. This transforms your skin into a fresh-looking canvas that can be more sensitive to the suns rays (hence the need for a powerful spf during the day). Since Amarte retinol is in moisturizers and rejuvenators, you'll want to cleanse, hydrate, and then apply a retinol-enhanced moisturizer followed by any retinol-containing rejuvenators you'd like. When used during the day, a high-protection SPF is mandatory in the morning to protect the newly "born" skin cells.
Your skin and skin routine should be unique to you, so if you're more comfortable only using retinol-enhanced products in the evening, fabulous. If you're using them morning and night, fabulous! The more you use these products, the quicker you will start to see an increased radiance in your skin.
What ingredients should not be mixed with retinol?
The ingredient that should not be mixed with retinol is benzoyl peroxide. Why? These two ingredients counteract each other. They act against and reduce their mutual force or neutralize it completely. We would also not recommend using retinol and vitamin C too close together. The only exception is if the product you're applying has them both in its composition (this means that their ratio is very well balanced). This way you will eliminate any chance for irritation or sensitivity.
Subscribe to get awesome blog content in your inbox.
Tips, tricks, and skincare advice from an experienced dermatologist.
FALL in Love with your Skin Care