FALL in Love with your Skin Care
Posted on October 07 2021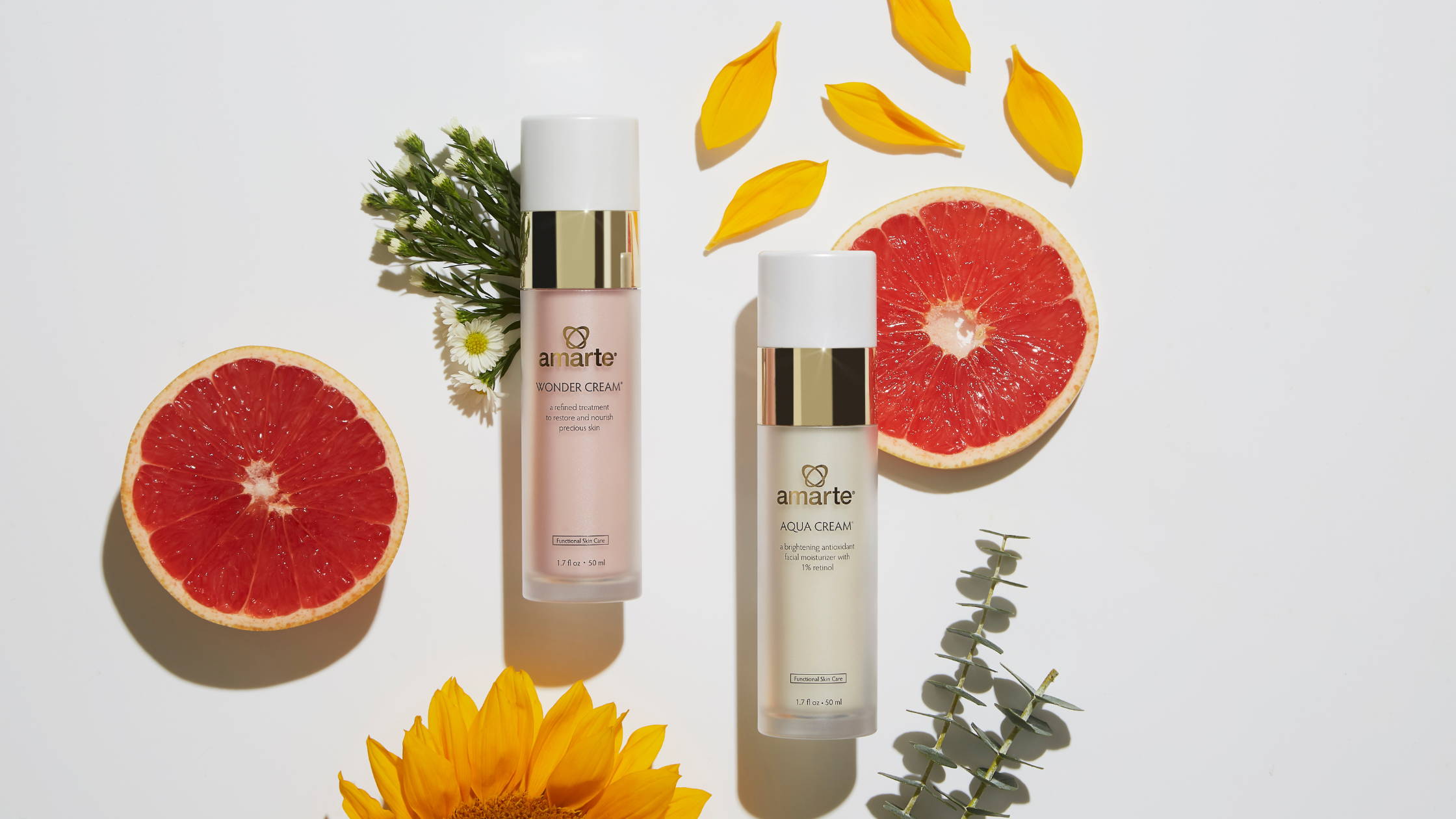 The leaves are beginning to change and a smooth breeze is steadily sweeping in cooler temperatures, that can only mean one thing – Fall is in our midst! The changing of seasons means more than simply swapping out your summer attire for cozy fall frocks, our skin needs a seasonal revamp, too!
Cooler temperatures bring fun and festive events, but a drop in humidity can also make skin dry, irritated, and in need of a seasonal product reassessment. The Korean skin care philosophy is to nourish, hydrate, and brighten, which translates beautifully throughout every season of the year – especially fall and winter when our skin is in need of some extra TLC.
In order to keep our skin glowing and clear, we need products to exfoliate, rejuvenate, and hydrate, hydrate, HYDRATE! Here at Amarte, we're all about sharing the beauty and skin secrets that will help you put your best face forward.
Here's the Amarte breakdown for an ideal regimen that will having you FALLing in love with your skin care:

CLEANSE with Daily ExfoliPowder® - A plant seed-based polishing cleanser that removes dry, dull skin to reveal the smooth, radiant face beneath. Gentle enough to use every day, its unique combination of botanicals makes it suitable for all skin types.
HYDRATE with Aqua Mist® Toner - An uplifting antioxidant citrus spray mist that delivers an instant complexion boost. With an ingredients list including arbutin, hyaluronic acid, and prickly pear extract, bright, dewy skin is only a few spritzes away!
DOUBLE THE HYDRATION with Aqua Veil® Pure Hydration Serum - A cucumber infused ultra light serum that optimizes hydration by releasing droplets of pure H2O onto the skin to form a protective veil. This unique serum gives skin a youthful radiance.
MOISTURIZE with Wonder Cream® - A high tech, bio-organic, multitasking moisturizer with both anti-aging and rejuvenative ingredients. Helps diminish fine lines, wrinkles, sunspots, and freckles.
REJUVENATE the eyes with Eyeconic® Eye Cream - An anti-wrinkle rejuvenator that delivers the highest levels of enhanced-stability retinol. Deeply hydrating, it nourishes skin and promotes elasticity without irritation.
REJUVENATE the face, neck, and chest with Overnight Express® Therapy - A multi-functional sleeping mask cream with retinol that boosts brightness, tightness, and clarity leaving skin supple and renewed.
PROTECT with Ultra Veil® - An incredibly elegant Broad Spectrum SPF 50+ facial sunscreen fluid rich in antioxidants and multi-functional botanical extracts.
PROTECT and ENHANCE with Natural Finish™ BB Cream - A sheer, finely pigmented face tint that provides moisture, uniform coverage, and Broad Spectrum SPF 36 sun protection. Designed to resist caking and flaking, it gives skin a long-lasting, natural radiance. Now available in 6 shades!
NOURISH lips with Pop Deco™ - An exciting new lip therapy for soft and supple volume. Your lips will look and feel hydrated, smooth, plump and healthy!
There you have it, the perfect fall skin care routine for glowing skin! Try one or all of these products for yourself by visiting AmarteSkinCare.com. What are you waiting for?! Glowing, radiant skin is just a few clicks away!
Subscribe to get awesome blog content in your inbox.
Tips, tricks, and skincare advice from an experienced dermatologist.