Prep for a Girls' Night Out with Amarte!
Posted on August 31 2022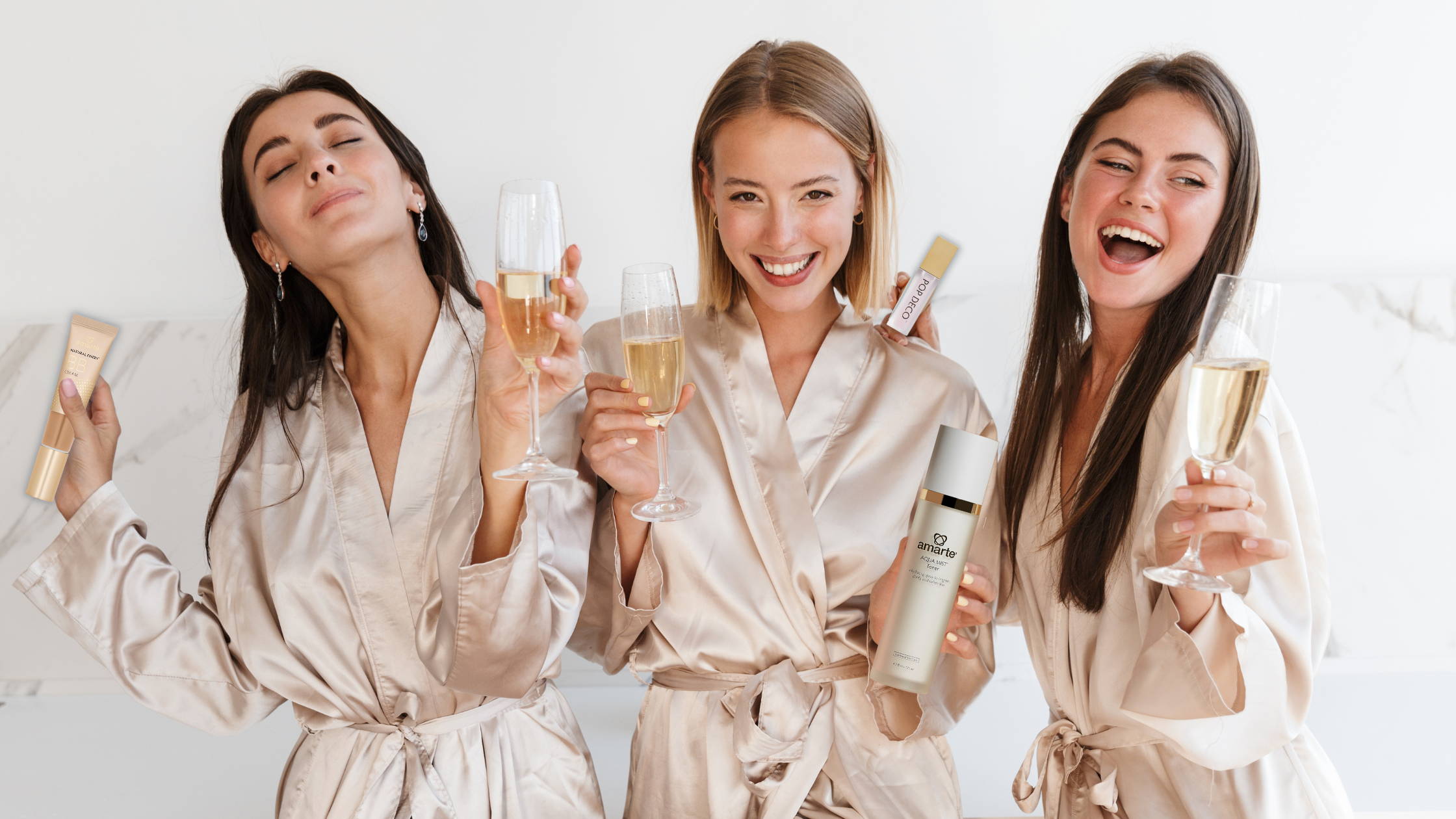 If you spend the week in the same sweats Monday - Friday, keep reading... this blog is for you. We're here to give you that friendly, gentle nudge to plan a GNO – Girls' Night Out! It's time to grab your girls, a bottle of champagne, and treat your skin to the all-star skin care line up as the perfect base for your makeup look for the evening. Here are a few things that will make getting ready for your girls' night out easy and will leave your skin glowing.
Regardless of your skin type or lifestyle, cleansing should always be a priority. Leaving impurities behind can lead to breakouts, redness, and other skin issues. We recommend double cleansing with our amazing combo of Daily Wonder Cleansing Foam & Daily ExfoliPowder, made to refresh and nourish all skin types.
Properly hydrated skin is crucial when it comes to skin prep, and Aqua Mist Toner is the ultimate multipurpose tool you'll want to have in your arsenal for this. Our cucumber, prickly pear & hyaluronic acid infused facial hydrating mist is the perfect base for your makeup. Once you hydrate your skin, you'll want to moisturize with Aqua Lotion (if you prefer a lightweight moisturizer) or Wonder Cream (if you prefer something richer). *Pro Tip: Add a few spritzes of Aqua Mist on top of your moisturizer for an extra a layer of hydration, creating the perfect slip for your foundation application.
Speaking of foundation, our best-selling BB Cream is up next. Our Natural Finish BB Cream is a sheer, finely pigmented face tint that provides medium to full coverage and is now available in 7 stunning shades. Packed with moisturizing and nourishing ingredients, it will give your skin that effortless glow, but the best part about our BB Cream is that the coverage is totally buildable. You can apply it as light or as heavy as you'd like, making it suitable for all skin types. It was designed to resist caking and flaking throughout the evening, giving your skin a long-lasting, natural radiance. No need for touch ups, this product will become your new GNO must have! Now, grab Aqua Mist once more from the countertop, this time as the perfect finishing step. Once you've blended your BB Cream to your liking, apply another layer of Aqua Mist and allow it to set your products beautifully into place.
Lastly, what's a GNO without luscious lips? Our Pop Deco Lip Therapy works alone to give you naturally plump, baby soft lips - or can act as the perfect topper for your lipstick of choice. This formula is silky & non-sticky, so feel free to dance and whip your hair back and forth as much as you want. Time for reapplication? No problem! Pop Deco is purse approved and small enough to bring with you anywhere the evening takes you.
There you have it – the perfect way to prep your skin for an exciting night out! Cheers to you spending some much-needed time with your girls – have fun and don't forget to repeat the regimen (sans BB Cream) before bed!
Subscribe to get awesome blog content in your inbox.
Tips, tricks, and skincare advice from an experienced dermatologist.